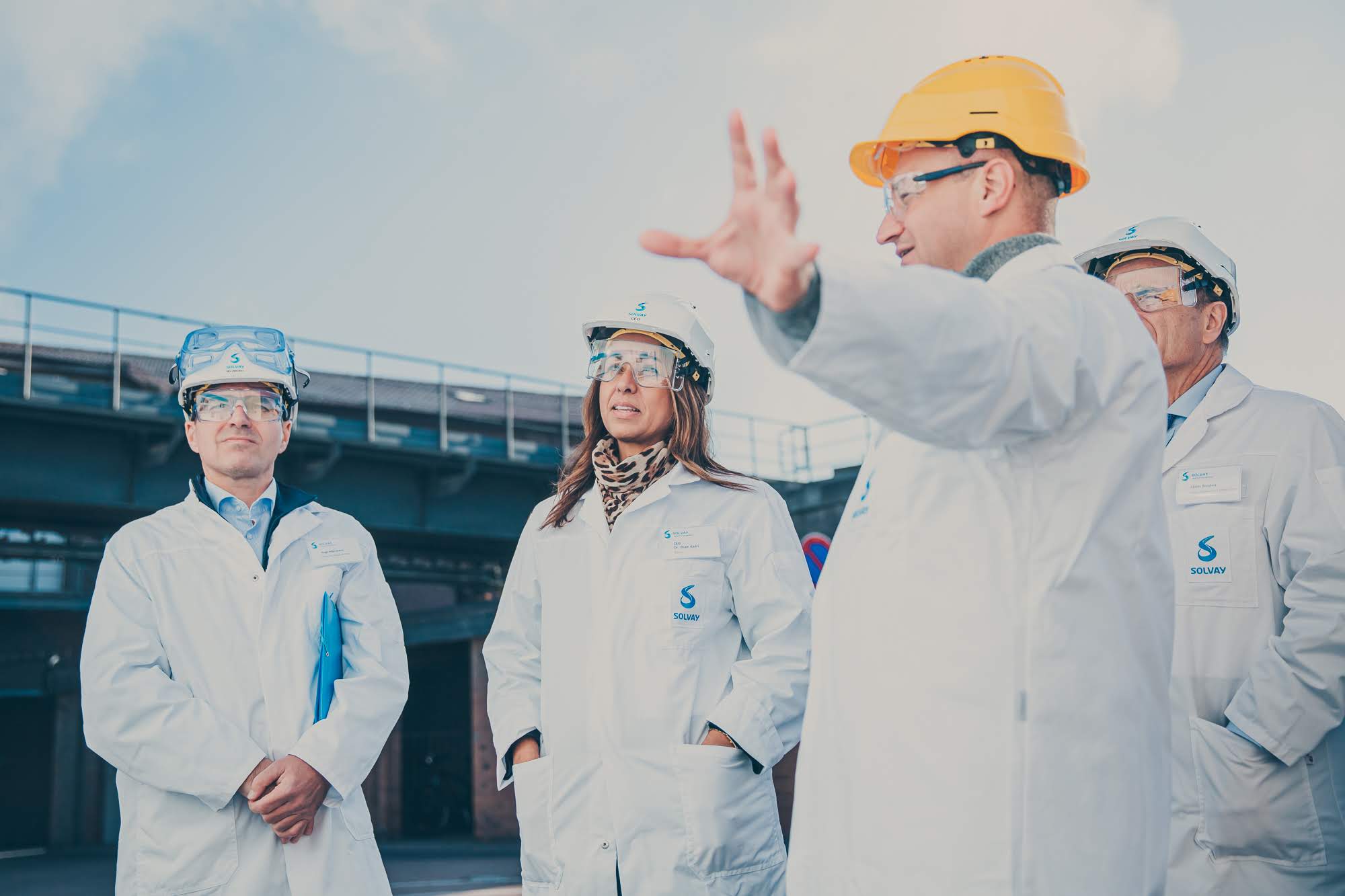 Our strategy
One eye on the telescope: always ahead of the curve
Growth, Resilient Cash, Optimize, Win
The pace of change in the world has accelerated dramatically as the need for cleaner materials and technologies transform the way society operates. Macrotrends such as climate change, resource efficiency and increased mobility, are seen as the main drivers of growth. As the world becomes more populated, urbanized and prosperous, the demand for food, water and energy will continue to increase. We believe a company is defined not only by its products and technologies, but by its ambitious attitude and sound objectives. This is at the heart of our recently unveiled G.R.O.W. (Growth, Resilient Cash, Optimize, Win) strategy, and the way we do business.
Together we win: unleashing laser-focus impact
Our G.R.O.W. strategy is the result of a comprehensive review of our entire business portfolio. Solvay has attentively listened to our customers, investors and employees' needs. For example, the new and existing customers Solvay supplies to, who work in leading end-markets, have evolved their ways of working. This change requires us to be a solution provider and specialty producer who delivers rapid, yet sustainable technological innovation, top-tier talent, personalized service and faster response times. They also expect the latest technological advances to be delivered as quickly as possible, so they can outperform industry competition. 
We want to unleash Solvay's full potential through a disciplined and differentiated allocation of resources across the Group, based on distinct business mandates and enabled by our new operating model, Solvay ONE. We will focus on growth, cash and returns, and will prioritize investment in the highest return opportunities. We will also create a more effective way to serve and innovate with our customers, as we increasingly deliver sustainable solutions that meet the needs of a more ESG-focused world. Therefore, we are well-positioned to drive superior value creation for shareholders, customers and all other stake.
CEO of Solvay
G.R.O.W. is the unprecedented key step in our transformation to simplify Solvay. That's how we unleash its full potential - bringing together teams from different legacies and engaging all of our employees around Solvay ONE, a mission to have a true customer culture. Moving forward, we will operate in three agile business segments: Materials, Chemicals and Solutions. Each of them will operate with a new, distinct business mandate to speed up Solvay's competitive results. This helps customers lower ownership costs, while increasing their sustainability efforts. 
We are ready to:
Accelerate Growth: prioritize investments in high margin Materials businesses with high growth potential, which are also our most sustainable solutions.
Deliver Resilient cash: maximize cash flow generation from our resilient Chemicals businesses, where we have a competitive advantage.
Optimize returns: optimize our Solutions businesses to unlock value and increase returns.
Win: create a winning team and Operating Model to support a performance-driven culture — Solvay ONE.
Even more customer-obsessed
Leveraging Solvay ONE expertise
Solvay wants to grow with its customers. The Group is now taking a new step to adapt our organization and culture, our changing customer base and to a fast-evolving environment. We are adapting our ways to do business. We want to be faster, simpler and more customer-centric so that employees can devote more time with clients -  breaking down silos and working side-by-side to co-innovate solutions. For the Group as a whole, this will mean even more opportunities to generate long-term growth and contribute to a more sustainable world.